Messi10 by Cirque du Soleil Returns to the Stage #IntermissionIsOver
Montreal, Wednesday, October 27, 2021
Halftime is over for Messi10 by Cirque du Soleil, rehearsals for the show inspired by the worldwide sports icon now begins.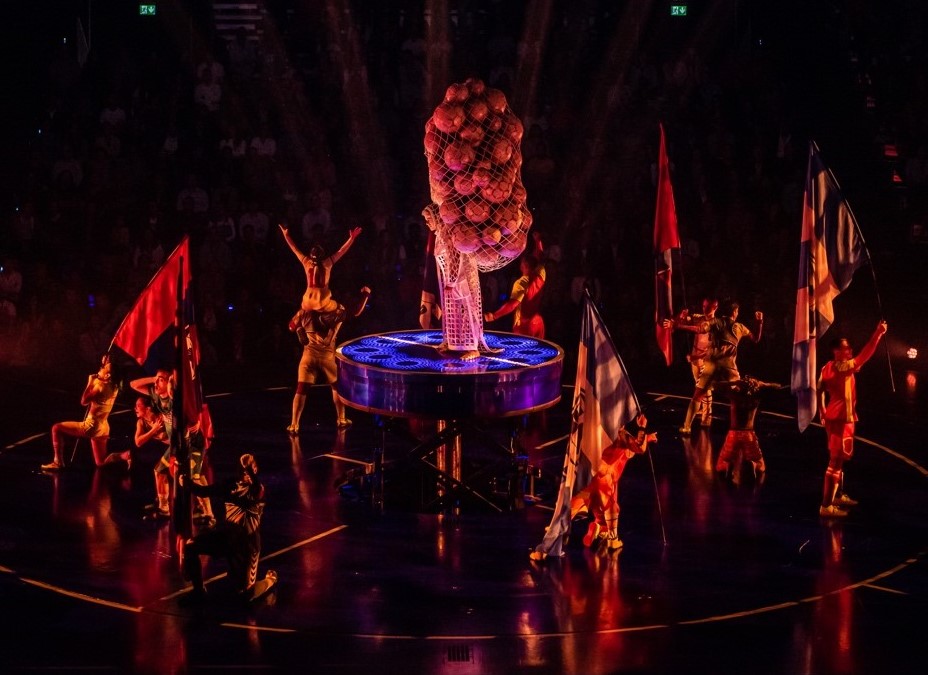 Montreal, October 27, 2021—After an unintended pause, and in light of the latest public health measures put in place by the government to respond to COVID-19, Messi10 by Cirque du Soleil announces the resumption of its tour plan and responsible return to the stage, with the goal of opening in Buenos Aires on March 9, 2023.
"After two years that seemed like an eternity, we are thrilled to announce the reopening of our tribute to Leo. The emotion caused by the international impact is immense, but undoubtedly being able to confirm the date for our opening in Buenos Aires is one of the most important events for the show", said Matías Loizaga, PopArt Partner and show Executive Producer.
The show tour, which began in Barcelona, was scheduled to visit Argentina in June 2020, but the global pandemic altered its course. With a clearer outlook, and following the easing of certain restrictions in Buenos Aires, the show is now able to reschedule its visit to the country and will be opening its doors at Costanera Sur.
« Messi10 by Cirque du Soleil uncovers the athleticism, devotion and brilliance that bridges the world of football and circus by celebrating the magic behind one of the greatest footballers of all time », explains Diane Quinn, Chief Creation Officer at Cirque du Soleil Entertainment Group. « Intermission is over, and we are thrilled to announce the return of Messi10. Now more than ever, Cirque du Soleil's power to bring joy and hope to our audiences is not only welcome but necessary. »
Cirque du Soleil has paid tribute to many iconic artists over the years, but this is the first occasion in which itpays tribute to one of the most talented athletes of all time to create an unprecedented show which bridges soccer and circus arts.
Tickets are on sale now at AreaTicket. Ticket holders are asked to keep hold of their tickets as they remain valid. For any other questions on options offered, please visit messicirque.com.
With the health and safety of the audiences and staff as a priority, the show production team is currently working on the tour plan for 2022. Messi10 will be presented in Saudi Arabia at the end of 2021, where the measures in place allow for a production such as that of Messi10 to take place safely. New cities in the Middle East will soon be confirmed, prior to the arrival of the tour in Argentina in 2023.
Cirque du Soleil's priority has always been, and remains, the health and safety of its artists, partners, employees and audiences. The Company will continue to actively monitor and assess the situation.
Messi10 by Cirque du Soleil's return to the stage will follow strict health protocols adapted to the regulations and recommendations of the World Health Organization ("WHO") and each of the territories it will visit.
More information on additional cities and tour dates will be revealed at a later time. To learn more, please visit: www.messicirque.com
FOLLOW US!
Twitter @MessiCirque
Instagram @MessiCirque
Facebook @MessiCirque
WEBSITE
SHOW IMAGES
About PopArt Music
PopArt Music is a leading business group formed by professionals with more than 20 years of experience in the music industry, who has worked with several of the most important artists in the world. They fully develop concerts, theatrical shows and events throughout Latin America.
In addition, PopArt Music has developed, together with its clients, new concepts and strategies for their brands, generating a strong bond and long-term relationships.
For more information, please visit: popartmusic.com.
About Cirque du Soleil
Originally composed of 20 street performers in 1984, Cirque du Soleil completely reinvented circus arts and went on to become a world leader in live entertainment. Established in Montreal, the Canadian organization has brought wonder and delight to more than 200 million spectators in more than 450 cities in over 60 countries on six continents. Cirque du Soleil is owned and operated by Cirque du Soleil Entertainment Group. For more information, visit cirquedusoleil.com.
MEDIA CONTACTS
Tomás Gestoso Saenz
Show Publicist—Messi10 by Cirque du Soleil
tomas.gestoso@stereotouring.com
Melanie Fontaine
Cirque du Soleil Entertainment Group
Melanie.Fontaine@cirquedusoleil.com